It started with a fever. Then came the body aches. I knew what was about to happen — the flu was settling in. After sharing so many hugs and kisses during the holidays, I wasn't surprised to get sick. Everyone around me seemed to have the symptoms. Respiratory problems, sore throats, and chest congestion rounded out the complaints. I try to avoid taking medicine whenever possible, so I turned to a few popular home remedies to feel better.
And I have a feeling I'm not the only one feeling a little icky. One of my friends is a schoolteacher and she told me she recently had nine — NINE! — students out the same day with a cold or flu. In case you come down with a bug, here are a few of the most popular natural cold and flu remedies, courtesy of the Wellness Mama.
Lots of Water
I find that we all feel better when we stay well hydrated, but especially during illness. Doctors often recommend rest and hydration for minor illness and the advice is sound. At first sign of illness, we make sure to sip water all day to support the body's natural healing process. This remedy is mostly free but super important.
Raw garlic
One of nature's most potent remedies is also one of the easiest to find. It has been extensively researched in over 5,000 studies for its natural ability to help the body recover. Raw garlic is available in many stores and relatively inexpensive. To take it, I mince it and drink with a small amount of water. For my kids, I'll also mix with honey or maple syrup or add to food to tone down the taste.
Face Steam
I love this incredibly soothing remedy that is easily made with kitchen herbs. What I do:
I boil 1-2 cups of water in a large pot and remove from the heat. Then, I  add 2 teaspoons each of thyme, rosemary and oregano. To intensify the herbs, I cover the pan for 5 minutes with a lid, and then remove lid and the sick person leans over the pot (careful not to touch it). The person covers his or her head with a towel to hold in the steam and breathes the steam to help ease discomfort.
We try to breathe in the steam as long as we can, or for about 15 minutes. This seems to help loosen congestion and soothe the throat and sinuses.
Herbal teas
Herbal teas can also be very soothing during illness. I personally like chamomile and peppermint for easing discomfort. I keep my ten favorite herbal teas on hand all the time, but we drink them often during illness. Many herbal teas are now available in regular grocery stores.
Bone broth and soup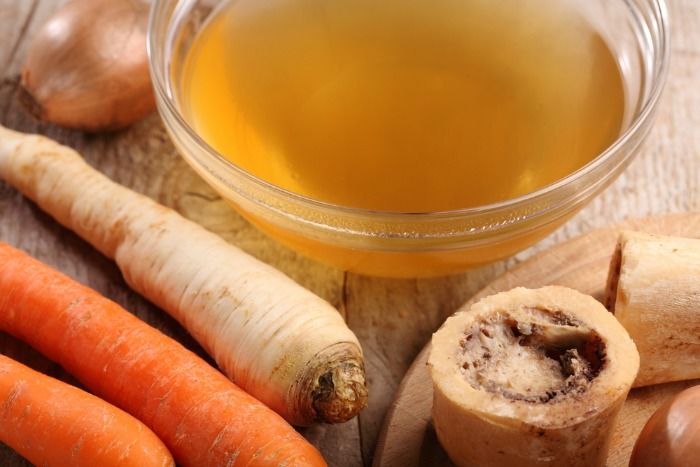 Chicken soup is the age-old remedy for illness, and we also turn to broth and soups when we don't feel well. These can be made with ingredients from a regular grocery store. Homemade bone broth and homemade chicken soup are soothing remedies during illness and a source of protein and minerals.
Lemon juice or ginger
I find fresh lemon juice and fresh ginger  in water especially soothing for illnesses involving respiratory issues or sore throat. During illness, I'll squeeze an entire lemon and slice a piece of ginger into hot or cold water for a soothing drink. Lemon juice is beneficial in other ways too and many people drink it each morning.
Electrolyte drink
When my kids really don't feel well and don't feel like drinking, I sneak some remedies in by making a natural electrolyte drink. They like the flavor and I'm able to get some Vitamin C and minerals in.
Apple Cider Vinegar
Certainly not a favorite remedy for many due to the strong taste, but apple cider vinegar can really soothe a store throat. I'll drink a teaspoon (or up to a tablespoon) in water during illness. Adding honey makes the taste more palatable.
Read on for more natural home remedies to beat the bug this season.