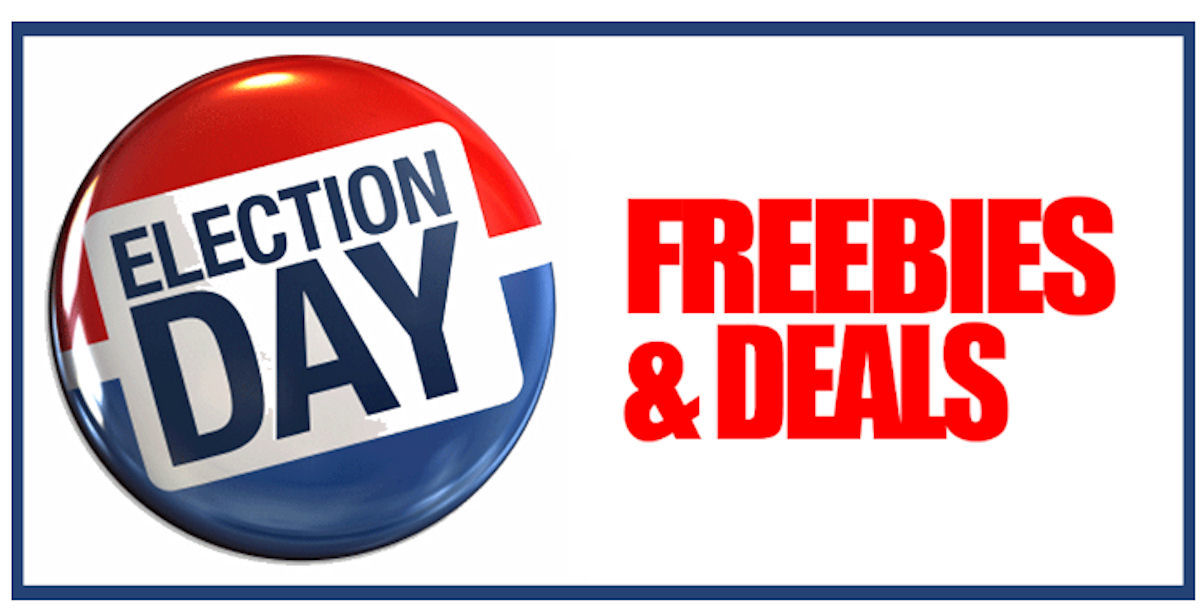 FINALLY…Tomorrow is Election Day! Personally, we've tuned out all election coverage for the last several weeks. All of the finger-pointing and insult slinging has been absurd. But let's put that aside for a minute and get down to another important matter of business: Election Day Freebies!
It doesn't matter who you plan to vote for, as long as you're planning to vote. After you vote, wear your "I Voted!" sticker to any one of these establishments to cash in on a number of Election Day Freebies:
ZipCar, Uber, and Lyft: They're going to get the Election Day party started before you even head out the door to vote. They all want to be sure you have the wheels needed to get you to the polling station. As part of its #DRIVEtheVOTE campaign, ZipCar is making more than 7,000 of its ridesharing vehicles available to customers for free between 6pm and 10pm in order to "zip to the polls during the last few hours."
Similarly, Uber is reminding its users that tomorrow is Election Day and the app has an option to direct customers to their local polling place. In lieu of other discounts, Uber is offering $20 off rides for new customers. Use the promo code VOTETODAY to save.
Lyft, the nation's #2 ride-hailing company, is offering a limited number of 45% discounts between 7am and 8pm (for new and existing users alike), to commemorate the election of the 45th President. Lyft is capping discounts at $10, but new users can also use the promo code NOVEMBER8TH to get an additional $5 off their first 10 rides.
Krispy Kreme: Show your sticker and Krispe Kreme will give you a free donut of your choice tomorrow. Available at any Krispy Kreme location.
7-Eleven: The convenience store knows you need to stay caffeinated to last through a long night of election coverage. So they're serving up a free cup of coffee at participating shops tomorrow. The deal is available through the 7-Eleven mobile app, so be sure to download it before you go.
White Castle: Not to be outdone, White Castle is serving up a free gallon if iced tea with the purchase of a Crave Case on Election Day. Use the promo code USA when purchasing.
Firehouse Subs: Grab a free medium drink if you wear your "I Voted" sticker tomorrow.
California Tortilla: Voters can get free chips and queso tomorrow with any purchase. But you'll need to know one of the secret phrases: "Make queso great again," "I'm with queso," and "I vote for queso". This offer is available at all California Tortilla locations nationwide.
Bob Evans: Get 30% off your entire dine-in or carryout order tomorrow with this coupon.
Great American Cookie Company: Show your "I Voted" sticker and get a free regular cookie at participating locations tomorrow.
Chuck E. Cheese: Keep your little guys happy on Election Day by grabbing a free personal sized pepperoni pizza at Chuck E. Cheese. Use this coupon code.
Didn't get an "I Voted!" sticker? Don't worry! Most companies will still give you these Election Day if you ask nicely and explain that you did, in fact, vote. Most deals are also available to people who have already voted during pre-election polling. Same rules apply. Just ask nicely.