If home is where the heart is, there's no question the kitchen is its aorta. The kitchen is where we all tend to gather, eat and celebrate—even if there's plenty of space in the living and dining rooms next door. But a look at today's latest kitchen design trends might just give traditional kitchens a heart attack! For better or worse, here's a look at the trends influencing modern-day kitchen design.
Colors: There's no Gray area here, Black and White reign supreme.


Homeowners have been terrified to adopt black throughout their entire kitchen, but we're starting to see that change — particularly in newly designed apartments and contemporary homes. Just as block works with everything in your closet, black can also work for your home. The updated black this year is slightly charcoal and mixes in a lot of natural elements and white into the space to keep it from feeling too dark. On the flipside, white remains popular because it makes kitchens feel airy, bright and larger than they actually are.

Glass-Front Cabinetry a window to the homeowner's soul (or, at least, kitchen gadgets).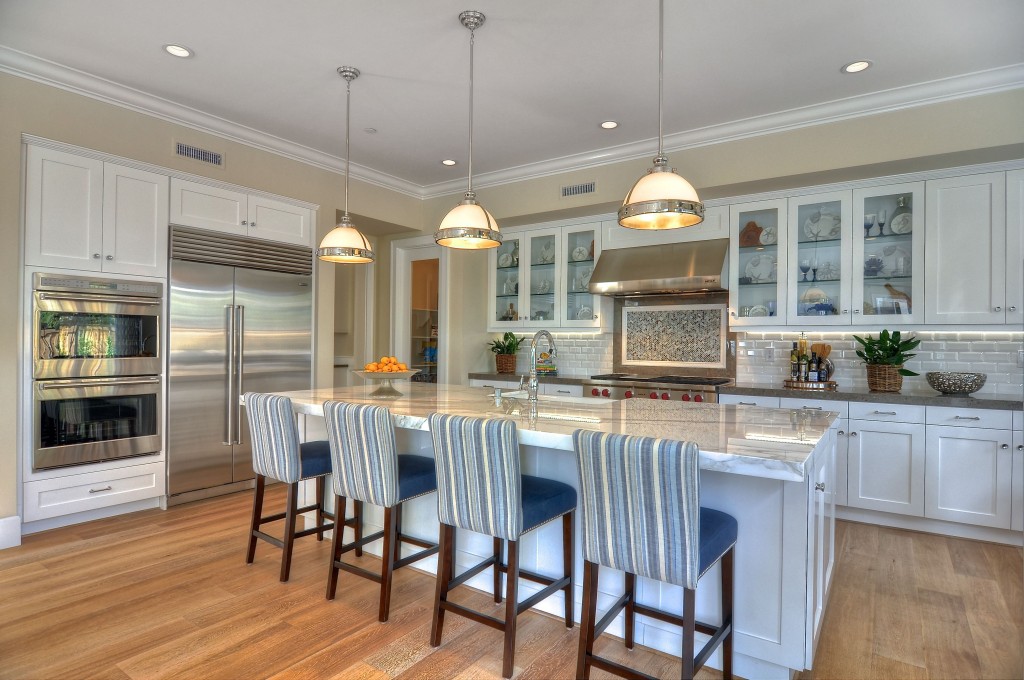 Although this isn't just a 2016 trend, it's one that has remained prominent. Glass-front cabinets can make a kitchen feel bigger – and it helps to  break up the upper cabinets from the lowers, but buyer beware: this means you have to own pretty things, then put them on display and keep them looking magazine-perfect at all times. Otherwise, people will just think you're a slob. This trend has staying-power, so we expect neat freaks to continue investing in this kitchen staple for the years to come.
Eyes draw to the simple, single shelf.


It's visually appealing – that single, clean-lined shelf that rests above the kitchen counter top. But wow, how do people pull this look off on a day to day basis? Even though it's popular, it's not super functional for people (especially if, like many of us, you have a number of kiddos running through the house who need 18 different types of sippy cups!). If you're a minimalist, this could be a great look for you. If you're able to put things away properly, this trend is on point. But if you're like the rest of us (when you open cabinets an avalanche of Tupperware lids fall out), I'd try to avoid this trend and go with what you know best: closed-door, opaque cabinets.

Energy efficiency matters more than ever.


Energy-efficient homes have become so popular, and the kitchen is where many of these trends are on full display. Homeowners are adding more LED fixtures; they're energy saving and never emit heat virtually, so no need to worry about burning cabinets and walls. Well-lit cabinetry is still super popular, so keep that in mind as you install LED lighting in your kitchen.

Bye bye, stainless steel.


Remember the days when everyone had to buy the newest package of stainless steel appliances? I do, because I was one of those people. But in time, we all learned how messy stainless gets – it's hard to clean and shows every grease spatter imaginable. Well the trend is finally starting to reverse itself. People are shying away from stainless and going back to white appliances. And on a related note, stainless steel kitchen sinks are also trending downward. More people are using porcelain kitchen sinks – even colored and granite kitchen sinks! – instead of stainless steel. Whatever color you go with for your sink, remember that the single-basin is still the most popular type.

Bold fixtures add a bit of contemporary pop.


In addition to LED lights, designers advise homeowners to use bold fixtures. Extra-large light fixtures will add some pizazz to your kitchen, without question. One of the trendiest styles is to use organic woven basket pendants – they're everywhere!, especially over kitchen islands. They are not new to the game, but they are getting some updated lines, shapes and tones that help to break up all the hard surfaces that we tend to find in kitchens. Generally these fixtures are very affordable, but there's plenty of websites that will teach you the DIY approach, too.