Solar leases, PPAs, financing—there are sure a lot of different paths to solar. The array of different purchasing strategies can seem dizzying when you're just being introduced to the technology. In this sense, SolarCity can be looked at as an innovator. Their leasing option was one of the first programs of its kind, allowing customers to essentially rent solar panel systems—in many cases with zero dollars down.
Today, we sat down with a former employee of SolarCity, who worked in sales in Oregon, prequalifying customers for their leasing program. A long-time veteran in the solar market, she described to us her role at SolarCity, as well as some of the ins and outs of the leasing program.
What was your job for SolarCity?
I would pre-qualify people and set them up for appointments with the people who would actually go to their house—there were many layers of people. There were the people who would go to their house and explain how the financing worked and whether they were qualified.
My job was a lot of sales, but it was also understanding the rules in Oregon that would allow someone to qualify for solar, and also with the incentives attached. But it would also have to be good for them financially. If someone didn't qualify for a tax credit, usually that meant that their house was really shaded or it was oriented the wrong way—which would cost them a lot of money to install panels—so the only reason they would want to go solar is for environmental reasons. I would also try to explain to them what portion of their bills solar would offset.
What kinds of things would disqualify someone?
My information would be more specific to Oregon…and around here, the biggest disqualifier would be trees. Also, different jurisdictions had different incentives. I was in an area that was right next to Portland. I was stationed in a Home Depot—although I wasn't a Home Depot employee—and I saw a lot of people who were from half an hour away, smaller towns, and then also people from Portland proper, and other Portland suburbs. So part of my job was knowing which cities and utility districts offered the kinds of incentives that would allow them to qualify for a system with SolarCity. That doesn't necessarily mean that they couldn't get it through another installer.
Thinking about getting solar panels on your roof? Read the full article, courtesy of Modernize Home Improvements, to learn more about leasing a solar panel system.
Check out these Twin Cities homes for sale that feature solar power!
7624 110th Street S, Cottage Grove, MN
List Price: $724,900
4 Beds, 3 Baths
Learn more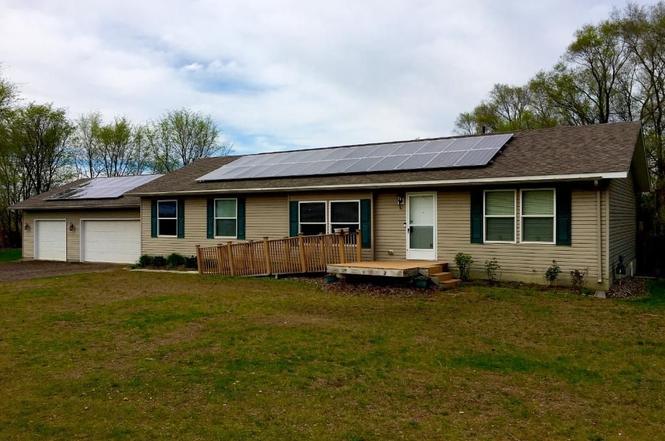 1914 Meadow Rose Blvd., St. Cloud, MN
List Price: $309,900
5 Beds, 4 Baths
Learn more

Sorry we are experiencing system issues. Please try again.