If you're anything like me, the last thing I feel like doing after a long day of work is coming home and slaving over a hot stove on a steamy summer night. As we head into August, I've just about thrown in the towel. But before I resort to takeout, I thought it was worth trying these 3 quick and easy recipes for the dog days of summer.
Chicken Watermelon Tacos
Fresh watermelon makes for a summery tomato substitute in classic chicken tacos.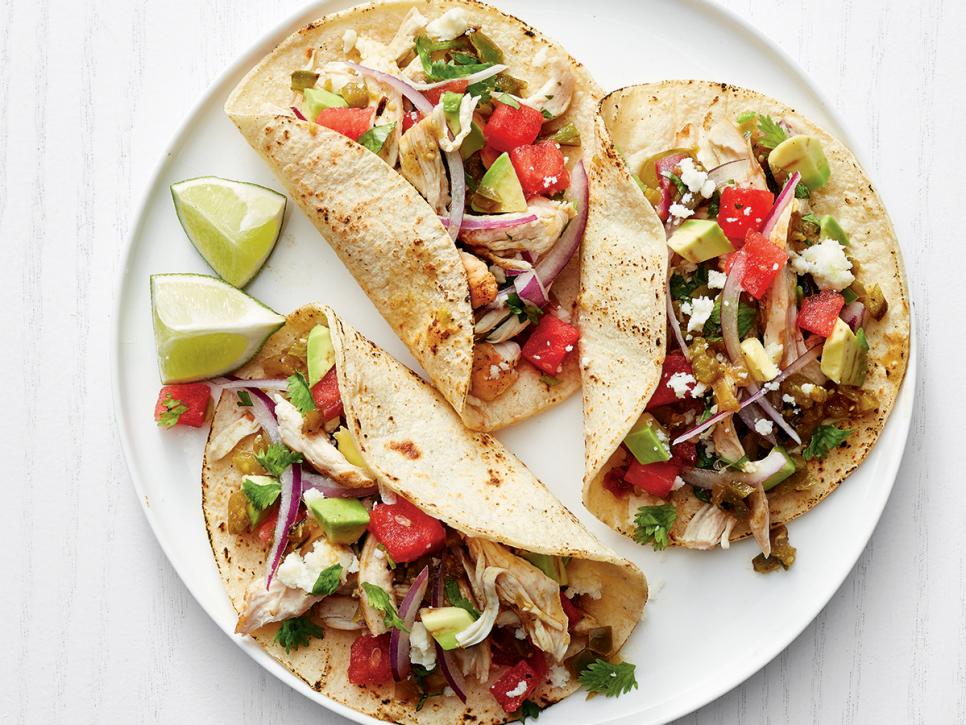 Ingredients
4 tomatillos, husked and rinsed
1 large jalapeno pepper
1 small red onion (1/2 cut into large chunks, 1/2 thinly sliced)
2 tablespoons extra-virgin olive oil
3 cups shredded rotisserie chicken (skin removed)
Juice of 2 limes, plus wedges for serving
Kosher salt
2 cups chopped watermelon
1 1/2 cups fresh cilantro
3/4 cup crumbled Cotija cheese (about 3 ounces)
Freshly ground pepper
12 corn tortillas
1 avocado, chopped
Directions
Heat a large cast-iron skillet over high heat. Add the tomatillos, jalapeno and red onion chunks. Cook, turning, until blistered, 5 to 6 minutes for the onion and 7 to 8 minutes for the tomatillos and jalapeno. Transfer to a cutting board; cool slightly. Chop the tomatillos and onion; seed and chop the jalapeno.
Heat 1 tablespoon olive oil in a medium skillet over medium-high heat. Add the tomatillos, chopped onions and half of the jalapeno. Cook until the vegetables release their juices, then add the chicken, the juice of 1 lime and 1/2 teaspoon salt. Simmer until warmed through, about 2 minutes. Keep warm over low heat.
Toss the watermelon, 1/2 cup cilantro, the sliced red onion, the remaining jalapeno, juice of 1 lime, 1 tablespoon olive oil and half of the cheese in a bowl. Season with 1/4 teaspoon salt and a few grinds of pepper. Warm the tortillas in a dry skillet.
Add the remaining 1 cup cilantro to the chicken mixture. Divide among the tortillas; top with the watermelon salad, the remaining cheese and the avocado. Serve with lime wedges.
Orecchiette with Mixed Greens and Goat Cheese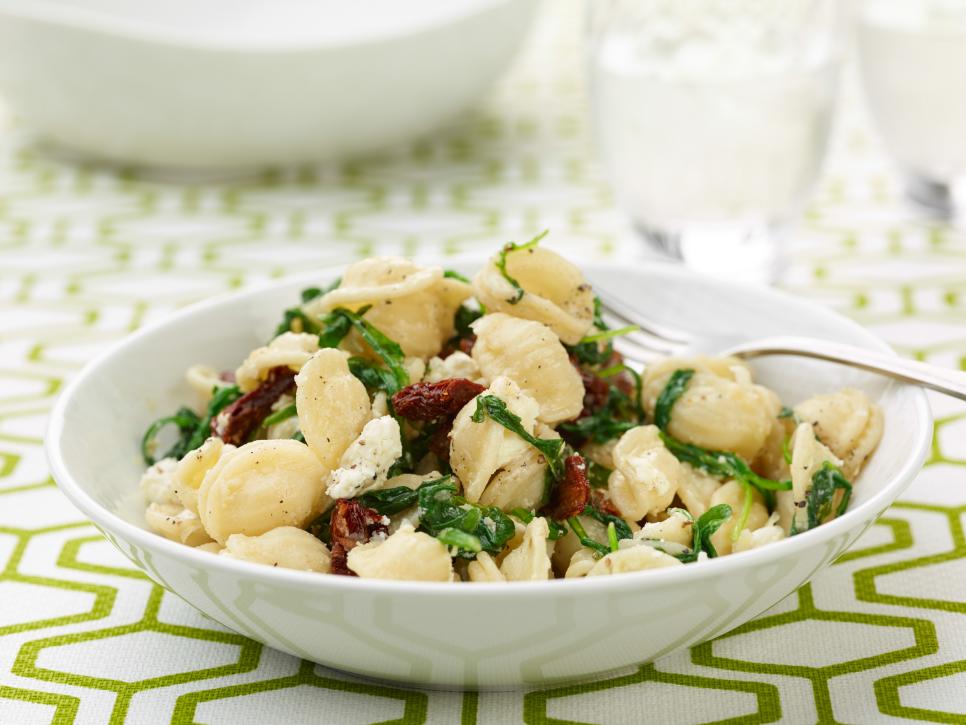 Cooking for one? Flavorful ingredients like goat cheese and sun-dried tomatoes make for an exciting, perfectly portioned single serving.
Ingredients
1 cup dried orecchiette pasta
2 cups Mediterranean-style mixed salad greens
2 tablespoons sun-dried tomatoes (packed in olive oil), chopped
1 tablespoon goat cheese, crumbled
2 tablespoons grated Parmesan, plus more for garnish
Pinch salt
Pinch freshly ground black pepper
Directions
Bring a medium pot of salted water to a boil over high heat. Add the pasta and cook until tender but still firm to the bite, stirring occasionally, about 8 to 10 minutes. Drain pasta, reserving 1/2 cup of the water.
In medium bowl, mix the salad greens with the sun-dried tomatoes, goat cheese, and Parmesan. Top with warm pasta and 1/2 cup of the reserved pasta water. Toss to combine and wilt the greens. Season with a pinch each of salt and pepper, or to taste. Garnish with additional Parmesan, if desired, and serve.
Watch how to make this recipe, courtesy of Giada de Laurentiis!
Greek Grilled Chicken with Green Beans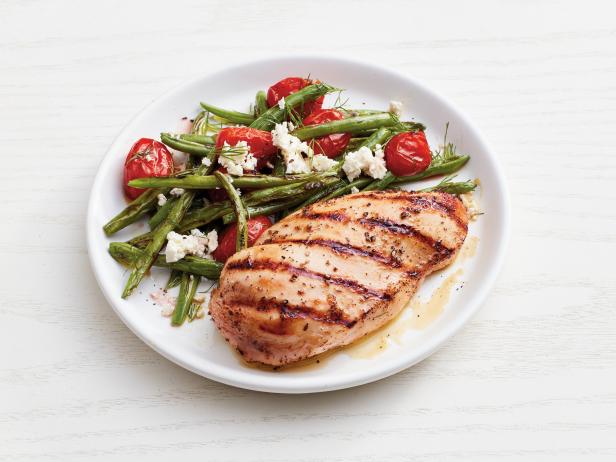 Get chicken and veggies on the table in 30 minutes with this easy recipe.
Ingredients
4 skinless, boneless chicken breasts (6 to 8 ounces each)
1 tablespoon garlic powder
1 tablespoon dried oregano
Kosher salt and freshly ground pepper
1 1/4 pounds green beans, trimmed
1 pint cherry tomatoes
3 cloves garlic, smashed
2 tablespoons extra-virgin olive oil, plus more for brushing and drizzling
2 tablespoons red wine vinegar
1/4 cup chopped fresh dill
1/2 cup crumbled feta cheese (2 to 3 ounces)
Directions
Cover one side of a grill with a large sheet of foil; fold up the edges to make a rimmed tray. Preheat the grill to medium high. Rub the chicken all over with the garlic powder and oregano; season generously with salt and pepper. Toss the green beans, tomatoes, garlic and olive oil in a large bowl; season with 1/2 teaspoon salt and a few grinds of pepper.
Brush the grill grates with olive oil on the side without the foil tray. Place the chicken on the grates and grill, turning halfway through, until marked and cooked through, about 15 minutes. Remove to a plate. Meanwhile, spread the vegetable mixture on the foil tray and grill, stirring occasionally, until tender and charred in spots, 10 to 12 minutes. Transfer the vegetables to a bowl; add the vinegar and dill. Season with salt and pepper and toss.
Divide the chicken and vegetables among plates. Top the vegetables with the cheese. Drizzle with more olive oil.
_________
I haven't actually tried these recipes, or the Food Network's list of 49 other quick and easy summer weeknight dinners to try — but I'm going to! These look to require about as much effort as I have on a hot night during the dog days of summer.
Scroll through the full list of ideas and  tell us…. which would you choose?
Sorry we are experiencing system issues. Please try again.