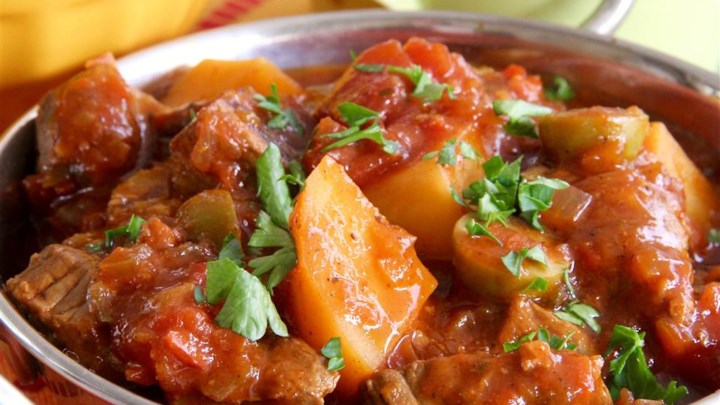 Now that Halloween is in the rear-view mirror, we're full speed ahead into fall cooking! As the temperatures continue to slide, there's nothing like coming home to a warm, hearty meal to warm you right up. This weekend we're going to be cooking up one of our all-time favorites: slow cooked Spanish beef stew (courtesy of Moefunk04).
Personally, I love this recipe because it only requires a handful of ingredients and only takes about 10 minutes to prep. I gather all of the ingredients on Saturday while I'm grocery shopping for the week ahead, and then I pop them in the slow cooker on Sunday morning and go about my day. We head to church, then we're off to soccer practice, and if we're lucky we'll be home in time to catch a little Sunday football. With all of the running around my family does, recipes like this make feeding my family easier than ever! And the fact that my kids will eat it doesn't hurt either!
INGREDIENTS (SERVES 6):
1 lb beef stew meat
Salt and ground black pepper to taste
½ cup chopped Spanish onion
2 garlic cloves, minced
2 cups chopped red potatoes
1 (14.5 oz) can of diced tomatoes
1 (12 oz) jar sofrito (can substitute with jar of Chile Verde salsa)
½ cup pitted and halved green olives
DIRECTIONS:
Heat a large skillet over medium heat. Cook beef in hot skillet until completely browned, about 5 minutes. Season with salt and pepper. Transfer beef to a slow cooker, retaining some of the beef drippings in the skillet.
Return skillet to heat and heat the retained drippings. Saute onion and garlic in hot drippings until softened, about 5 minutes; add to the beef in the slow cooker.
Stir potatoes, diced tomatoes, sofrito and olives into the beef mixture.
Cook on LOW until beef and potatoes are fork-tender, about 5-6 hours.
Enjoy spooned over your favorite yellow or Spanish rice (butter noodles work too), and serve with black beans on the side (OPTIONAL).
Consider adding your own twist by:

Adding a half cup dry red wine
Adding carrots to the stew for a more traditional pot roast taste
Tossing the raw beef in adobo saffron spices or saison before browning it
Adding a jalapeno pepper for some heat
Substituting the potatoes with cauliflower for a healthier, low-carb dish
Serving with a good rustic bread and side salad
Don't forget, this is an easy recipe to freeze! You might want to consider doubling the recipe so you can freeze left overs for an easy week-night meal down the road.
If you're on the fence about giving this a try, don't just take our word for it — check out the stellar reviews it's gotten from other people, too!
FEATURED PROPERTIES
Sorry we are experiencing system issues. Please try again.